DEVADA by Tich Brewster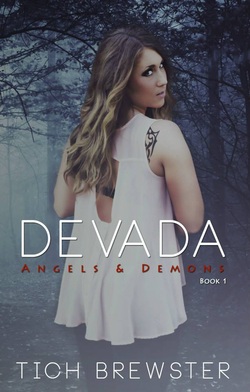 Sweat trickled down Hannah's face as she ran through the pasture. She ran as quickly as her feet allowed but she knew that it wasn't fast enough to outrun this demon. She looked behind her but didn't see anything. The sky was unusually dark and the trees were just faint silhouettes watching her as she tried to escape death.

It was eerily quiet, even for this time of night. No crickets chirped and the wind didn't blow. The only sound was the rapid beat of her heart. She slowed her pace just a fraction. Her body was not used to this kind of exercise and her lungs felt as though they were on fire. "Where are those Daimon brothers when you need them?"

Hannah looked around. She needed a place to hide so she could regain some strength but there was nowhere for her to go. The only building was a silo directly behind her. To her right a twig snapped. Her heart skipped several beats before nearly thrumming out of her chest.

She felt like throwing up. She didn't think she'd have to deal with this, not this soon, and definitely not on her own. His raspy chuckle took her by surprise. Crap he's closer than I thought. She turned left and picked up speed. Would this nightmare ever end?

A few short weeks ago Hannah was a normal seventeen year old girl preparing for her high school graduation. She was smart and pushed herself academically. Her only worry in life was whether or not she would be able to take off of work in order to attend her senior prom.

Now everything Hannah loved was gone. Her parents, her best friend, they were all gone. They had been killed by demons that were dead set on torturing her. Demons that wanted to capture her and drink her blood.

Demons. She still couldn't wrap her head around the fact that they were actually real. She'd always believed that they were a fantasy. Something made up to entertain and scare people.

"Hannah, you can run but you can never hide." His sickly gravelly voice sent chills up her spine. A few more twigs cracked and popped behind her. She heard him breathe in through his nose — slowly. "Mmm, you smell delicious. I can't wait to get my hands on you." She could practically hear him smiling. "I'm going to take my time with you. First I'll torture you slowly and then," he hissed through his teeth, "I'm going to devour your organs."

She couldn't keep running away, the Daimons wouldn't be there to hold her hand forever. Eventually she will need to get up and take a stand. There was no way she could let anyone else die because of her cowardice.

No time like the present to face her demons — literally. She stopped running, spinning on her heel. He stood several feet away with a wide grin on his face. He looked human except for his blackened eyes and shark-like teeth.

This was not a demon possessed human. The sharp teeth were an indicator of that. No. This was a demon in his physical body and he wanted to kill the one thing that can kill his master. Hannah.

She felt in her jeans pockets. Empty. That's not good. She frantically patted and searched her entire body. Nothing. All her holsters were empty, she had nothing.

The demon let out a shriek of a laugh, high pitched enough to break glass. "Looking for these my little Devada?" His sharp teeth, grimy and dripping with a black tar-like substance, snapped together rapidly. Her eyes widened at his savageness. The shock she wore caused him to smile in satisfaction.

She was in no way ready to go toe-to-toe with a demon unarmed. She had no idea how to kill a creature of hell. The demon licked his lips right before he lunged at her with his claws outstretched, ready to slice her throat open.

---
REVIEW SNIPPETS
"This story was fast paced, and wonderfully put together. The plot was fantastic! All of the characters were well written, their depth was amazing. My only gripe is I want more and I want it now!"
~Jennifer Wedmore, 2 Bibliophiles Guide

"Loved this book and I cannot wait for book two."
~Janna Ward, Reviewer

"This is a must read! I totally love this book. This story has so many emotions floating in it. I loved the characters in this, they were real and I felt a connection to them in so many ways.
You can't go wrong buying this book! I HIGHLY recommend you read this. KUDO'S to Tich Brewster for this amazingly toxic story!"
~Brenda Romine, Loves All Things Books

"This is going to be one heck of a series and I can't wait to find out what happens next. What is Hannah's role going to cost her, will Josh and Raum and Hannah survive? Will love win and if it does at what price.
Great first book in what promises to be a great series. Definitely recommend picking this one up. You won't be disappointed in the least!"
~Sheri Spell, Reviewer

"Excellent read! Loved it! Wanted more.
The story is very good and has quite a bit of action. You won't be bored, the fights are entertaining and this story will also get some emotions out of you. I should also say that this book is perfectly safe, if you have teens they can read it, I am sure my kids will love this book. It is very clean."
~Suleika Santana, All About Books

---
BUY LINKS: